Buy Books
written by Pinaki
Buy Books Authored by Pinaki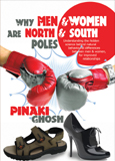 Why Men And Women Are North And South Poles
By Pinaki Ghosh | paperback | $11.90
Genre: self-help; Pages 160; Paperback; Price: Rs 150 in India, US$11.90 for delivery outside India
Bestseller since 2007. Grab the enhanced, improved version today.
Do men ogle more than women? Why do men dominate the remote control and women talk 3 times as much as men? Why can't men locate their stuff, but women can? Why do women love shopping and men hate it? Why do men hate criticism, or will seldom marry their female boss? Why do women discuss their sex life with friends, or get lost in a new city? What is the science behind these stereotype behaviour of the two sexes? Discover the breathtaking scientific analysis in extremely a humorous and enjoyable writing style. Take the unique test to determine your sexual trend. Understand your partner better in the light of science and history, and appreciate him/her more.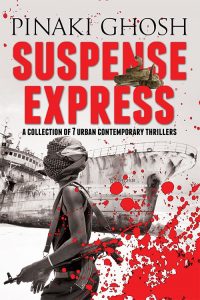 Suspense Express
By Pinaki Ghosh | paperback | $20
Genre: self-help; Pages 138; Paperback; Price: Rs 190 in India, US$20 for delivery outside India
Bestseller since 2016. Grab this book today.
Suspense Express is a collection of 7 short urban contemporary thrillers that dwell between themes like hacking into the security system of a country, international terrorism, an experiment with humans, a present-day sequel to a paranormal mystery around a headless horseman, a ship hijack in Somalia and the string of unexpected incidents triggered by that, a reality game show gone horribly wrong and an Egyptian mystery. The thrillers swing from country to country, continent to continent and have unexpected twists and turns in almost every page. The fast pace of the stories, the variety of themes and urban flavour make the book unputdownable.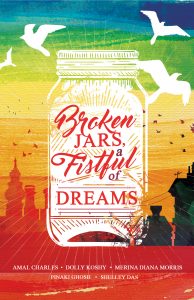 Broken Jars, A Fistful of Dreams
By Pinaki Ghosh, Amal Charles, Dolly Koshy, Merina Diana Morris, Shelley Das
Genre: Fiction, Pages: 280, Binding: Paperback, Language: English. Price: ₹ 480.00 in India
"Seven Broken Souls. Seven Seemingly Perfect Lives. One Chance to Set it Right."
Dr Meghna Goel is a renowned Psychiatrist with an unblemished track record of helping the troubled get back on their feet. Up until now. This year she is about to face her biggest challenge in the form of seven individuals on the brink of self-destruction or worse.
Razia, a single mother hides a traumatic past.
Ahmed is in prison for a heinous crime he has no regrets about.
Jivan is burdened under the weight of the dual life he is forced to live.
Satyananda, a self-styled Godman believes in justice, swift and cruel.
Deepika seeks solace in drugs and sex.
Shubham harbours thoughts of revenge and resentment towards a part of society he believes shouldn't exist.
Sulochana withers away in silence carrying within her a terrible secret.
'Broken Jars, a Fistful of Dreams' is a coming together of five authors who weave parallel tales of love, betrayal, injustice and revenge. Issues that plague society are showcased with their inimitable style.
The book also takes you on a journey around the metropolitan city Bangalore where the characters currently live and eight places in India where they were born and brought up.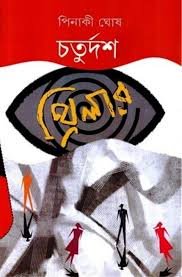 Chaturdash Thriller
By Pinaki Ghosh
Genre: Fiction, Pages: 270, Binding: Hardbound, Language: Bengali. Price: ₹ 100 in India
A collection of 14 contemporary thrillers by Pinaki Ghosh